Welcome to North Cascades Crew
NCC Fundraising Event
The Boys in the Boat: A look behind the scenes
March 8, 2015   1:00-5:00pm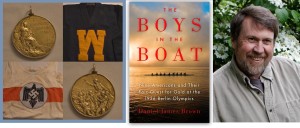 **EVENT SPECIAL**  Bring a Friend!  Purchase your ticket and get a second ticket for half price.
After reading the New York Times Bestseller Nonfiction book The Boys in the Boat, most people are left wanting more.  They don't want the story to be over.
The Boys in the Boat: A look behind the scenes will give you just that – a more detailed look at how the book came to be, the processes used to research and write the book, and a colorful and detailed look into the life of Joe Rantz as he became a father and raised his family.
Schedule of events:
1-2pm VIP meet-and-greet
2:30-4pm Speaker presentations featuring author Daniel James Brown and Judy Rantz Willman
4-5pm Book signing and artifact exhibit (courtesy of Judy Rantz Willman, daughter of Joe Rantz)
Books will be for sale at the event, courtesy of Uppercase Bookshop
NCC recently entered into partnership with Snohomish County Parks and now have a new location at Wyatt Park where there is room for a boathouse!  We are fundraising to construct a building on our new site that will protect our boats and our members from the elements.  You can help us achieve this goal by attending our event, or making a donation to our club HERE.
Learn To Row Gift Certificates available now!
Give the gift of fitness for all seasons – always the right size, always the right color!
A Learn to Row gift certificate is the perfect gift for friends and family.  It's good for use with any scheduled Learn To Row session anytime during 2015.  If you want to wait until spring or summer to try rowing, no problem!
Contact Wendy Clark at info@northcascadescrew.com for more information.
**JUNIOR SPRING SEASON REGISTRATION IS NOW OPEN**
The Juniors are indoors for the winter, but Spring is just around the corner!  Spring rowing starts on February 16.  See the Juniors Sessions and Registration page for more information and registration specials.
LEARN TO ROW CLASSES
"Rowing has been on my bucket list for several years. I'm so glad I found NCC and Fleming as a coach. He choreographs rowing beautifully. Fleming teaches each element of rowing, we practice each piece, eventually putting them all together to have a GREAT row!! I only wish I had taken the opportunity to have started rowing 40 years ago. I LOVE ROWING…" – Robin
Adult and Youth Classes Available at Wyatt Park (10508 Chapel Hill Rd., Lake Stevens)
UPCOMING ADULT LEARN TO ROW SESSIONS: 
February Sessions – Wyatt Park
Weekend Session: 10-11:30am (2/1, 2/7, 2/8, 2/14, 2/15, 2/21, 2/22, 2/28)
Weekday Session: 6-7:30am (2/2, 2/6, 2/9, 2/13, 2/16, 2/20, 2/23, 2/27)
March Sessions – Wyatt Park
Weekend Session: 10-11:30am (3/1, 3/7, 3/15, 3/21, 3/22, 3/28, 3/29, 4/4)
Weekday Session: 6-7:30am (3/2, 3/6, 3/9, 3/13, 3/16, 3/20, 3/23, 3/27)
April Sessions – Wyatt Park
Weekend Session: 10-11:30am (4/18, 4/19, 4/25, 4/26, 5/2, 5/3, 5/9, 5/10)
Weekday Session: 6-7:30am (4/3, 4/6, 4/10, 4/13, 4/17, 4/20, 4/24, 4/27)
Each session includes 8 classes. Session Fee: $110 (includes free parking during class time)
Contact us for more information or call 888-ROW-NCC1 for more details and to register!
Download Registration Forms HERE